When you need child care, it's important to know what resources are available to help with child care costs where you live.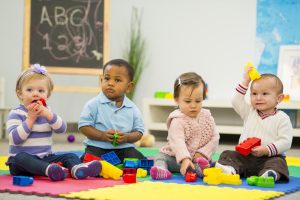 According to Child Care Aware® of America's 2016 Parents and the High Cost of Child Care report, the cost of child care is one of the highest in a family's monthly budget. It is often higher than the cost of housing, college tuition, transportation or food. Families all across the country know that it can be hard to find quality child care that is affordable.
While quality child care programs may cost more, the fact remains that it is important for children to have quality care. When children are in a quality child care program they are able to develop, explore, and grow. A safe and nurturing early learning environment allows children to get ready for school, and their parents are able to focus on work or school knowing that their child is in a healthy, caring environment.
If you're not sure if you can afford quality child care, take a look at some of the pages below on paying for child care.
In this section you will find:
Federal and State Child Care Programs will introduce you to government assistance programs that help families access quality child care and preschool programs. Find out how to apply for child care subsidy, Head Start, and more.
What If I Don't Qualify for Assistance? answers the common question from parents who may not be eligible or who are on a wait list for child care assistance. From tax credits to sliding fee scales, discounts to lower-cost child care options, you're sure to find helpful information here.
Budgeting for Child Care Costs helps parents and families find information on the average cost of child care where they live. Learn what other child care costs you may need to budget for, and get resources to help you create your family's budget that includes these child care costs.
Stay at Home or Return to Work is a decision-making tool for families thinking about child care options. The tool takes you through aspects of your child care choice so that you can make an informed decision. Considerations include child care options, potential work/child care situations, budgeting, resources and more.
Military and DoD families, be sure to visit our Military and DoD Child Care Assistance Programs page for information on Child Care Aware® of America's military and DoD fee assistance programs.